The garment printing industry has modernized rapidly over the last few years. Traditionally garments were always screen printed, but recently there has been a huge growth and development in hi-tech digital textile printing machinery and equipment.
We are strong believers in modern production methods and have seen the huge benefits of these hi-tech printing techniques. We have therefore focused our attentions soley on the digital printing sector of the market and have invested heavily into brand new equipment which enables us to continue to produce the highest quality prints available on the market today.
We offer three key production types:
DTG - Direct To Garment Printing
Heat Seal Transfer Printing
Sublimation Printing (inluding all over sublimation printing)
We will always recommend the type of print most suitable for your requirements and artwork, but in case you want to find out more about these processes, we have included some key features of all three printing techniques.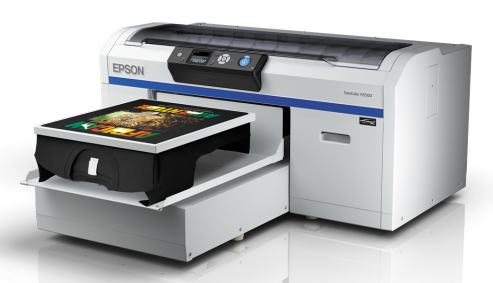 Direct to Garment Key Features: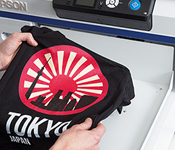 Soft and vibrant finish
        Very accurate and consistent
        Highly durable
        Ideal for fashion, promotional and workwear
        No colour seperation required so any artwork and amount colours can be used
        No set up costs
        High and low volume – Can produce 1 or 1,000+ with the same ease
        Very simple process, email your artwok and we print and ship!
Heat Seal Transfer Printing Key Features:

    Highly durable – no cracking or colour fade.
    High washing temperatures – ideal for workwear and sportswear.
    Highly versatile – can be printed on a wide range of garments and fabrics.
    Can be applied to caps, bags, hats, umbrellas, nylon, leather, neoprene etc.
    Large range of colours and finishes – matt, gloss, luminous, metallic, flock, hi-viz, raised puff, single colour, full colour, litho, polytran, plastisol and more.
    No set up fees – Ideal for individual names and numbers
    High and low volume – Can produce 1 or 100,000+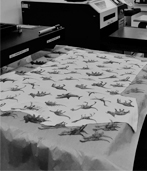 Sublimation Printing Key Features: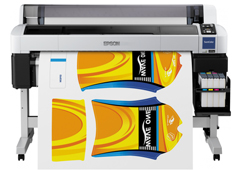 This is a dye sublimation process so the print becomes a part of the garment with zero feel
    Can be used for highly impressive all over printing on pre-made polyester based garments
    Great for the fashion industry and sportswear
    Can also be used for printing onto mugs, bottles, small signage and other promotional products
    No set up fees, can produce single items or small to medium runs