Embroidery is the process of digitally stitching a design, logo or text into a garment. It is considered to be the more prestigious form of garment decoration. It creates an impression of quality and style and literally becomes a part of the garment making it a highly durable option as well.
Multi-colour logos or artwork can be produced quickly and consistently due to the high-tech modern embroidery machines we use. Large designs with a high stitch count can take longer to produce therefore costs can increase due to size.
Embroidery is a great option and cost effective for large volume orders, but is still ideal for small to medium runs.It is also a great choice for bulkier fabric items that can be harder to print like fleeces, towels, dressing gowns and knitwear as well as regular items such as polo shirts, shirts etc.
Digitising
Each new logo or design to be embroidered needs to be digitised. This is the process of turning your logo or design into a stitching pattern that the embroidery machine can understand. For standard names and numbers in supported fonts digitising is not required.
Once your logo has been digitized we will store your design on file so there will be no digitising fee on repeat orders using the same design/logo. Likewise if you've had your logo digitised by someone else and can send us that file, there is no need for digitising.
Embroidery Key Features: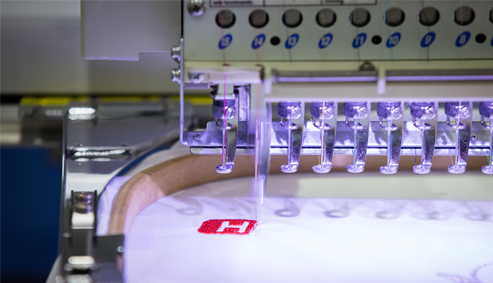 Premium look – gives a high-end premium effect
        Durable – will outlast the garment
        High washing temperatures
        Highly versatile – can be printed on a wide range of garments and fabrics
        Can be applied to caps, bags, fleeces, woolen jumpers, beanies, towels, quilted fabrics etc
        Multi colour logos – full colour logos at no extra cost
        Large volume – huge reductions for high volume orders
        Cheap digitising – cheapest set up fees around
        Personalised – add individual names and text with no set up fees
        Badges – embroidered badges or crests available